Facing Institutional Failures, Communities Work to Bring Puerto Rico a Green Future
Electricity Blackout May Have Caused More Than 1,500 Deaths
August 1, 2018
In May, when Harvard Medical School published its report estimating the death count from Hurricane Maria, there was an uproar: the researchers put the death toll at more than 4,600—72 times the official count of 64. If the Harvard estimate is accurate, the storm was the costliest in terms of lives lost in over a century for the United States. But the uproar, for all its initial ubiquity and force, faded quickly.
The study confirmed what those on the ground had known: the Hurricane's terrible devastation (it caused $90 billion in damage) was followed by an inexcusably slow response, which resulted in more deaths long after the storm had passed. Indeed, the report estimated that over a third of the deaths occurred during the recovery, as a result of the island's blackout, when life-saving appliances and air conditioning units sat inoperative.
As this year's hurricane season begins in earnest, Puerto Rico will again be left vulnerable. The Federal Emergency Management Agency (FEMA) is removing all of its generators from the island, though there is no backup system for the antiquated grid on which the island depends, leaving it vulnerable to the next storm. Many homes remain in disrepair and lack roofs. Almost 80 percent of homeowners who requested aid from FEMA for repairs or rebuilding were rejected entirely. In many cases, homeowners do not have formal deeds or documentation, which are required by FEMA to receive compensation for damages.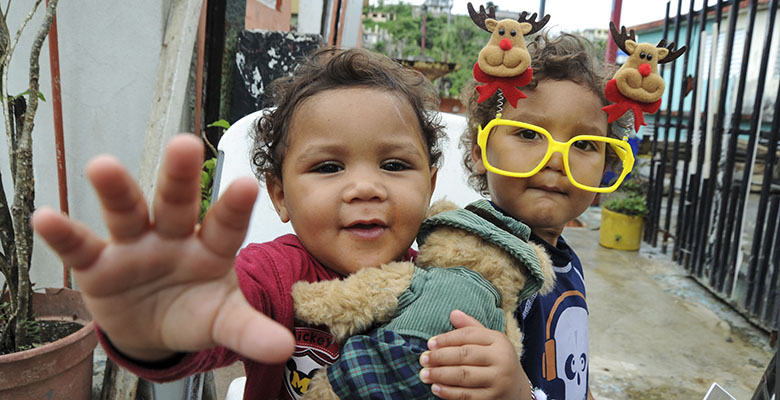 Puerto Rican children at a December 23 toy drive benefitting families affected by Hurricane Maria
(photo credit: Coast Guard, Lisa Ferdinando)
Housing continues to not only pose an issue for Puerto Ricans on the island, but also for Puerto Ricans on the mainland, where many sought refuge. FEMA has been providing short-term lodging assistance for Hurricane Maria evacuees under its Transitional Sheltering Assistance program. This assistance to displaced Puerto Ricans in the States had been set to expire at the end of June, but a federal judge ordered the extension of FEMA's emergency sheltering assistance until August 7. Additional extensions are possible, but the underlying issues have yet to be addressed. Without homes to return to and without institutional or governmental support, the prospects of evacuees are bleak and many are likely to end up homeless.
FEMA published an internal report on its response to the 2017 hurricane season in which it confirmed its unpreparedness for Hurricane Maria. It was understaffed, short on materials, lost track of different shipments, and had to pull from other departments to find people with the necessary skills to respond to the crisis in Puerto Rico. Certain errors made by FEMA during the recovery are headscratchers. Tribute Contracting LLC was awarded a $156 million contract to deliver 30 million meals, only to lose it 20 days later when a group of senators realized that Tribute was a one-woman operation with no large-scale disaster relief experience, and that it had only delivered 50,000 meals of its initial 18.5 million order. Subsequent investigations found that the contract was awarded in spite of the fact that the company had previously had at least five contracts cancelled by the government because of its failure to provide adequate services. In a separate instance, FEMA's workers were unable to communicate information back to the mainland in the wake of the Hurricane's arrival because the satellite phones they were using did not work in the region.
But for all the failures of FEMA, it would be remiss to ignore the underlying factors that made Puerto Rico so vulnerable to Hurricane Maria. The marginalization and exploitation of Puerto Rico through predatory banking kept the island strapped with an oppressive debt that has stymied their economy and prevented the public work investments required to develop resilience. Maria conjures memories of the 2010 earthquake that struck Haiti as well as Hurricane Katrina in New Orleans. These disasters demonstrate that when disaster strikes in areas affected by chronic debt and disinvestment, the impacts can be apocalyptic. New conceptualizations of resilience take guidance from this realization, emphasizing preparatory measures and preemptive investment in infrastructure.
Projects carried out by groups like Tesla, MIT, and Maximo Solar have brought glimpses of the future of energy to Puerto Rico and its hospitals, community centers, and schools. Microgrids, smart grids, and solar-plus-storage systems can provide resilient power to important buildings and, depending on the size of the systems, municipalities. Besides reducing the cost of electricity for those served by the system, these technologies and systems lessen dependence on wider grid systems. This elevated self-reliance becomes especially valuable when the grid fails ‒ such as during hurricanes, wildfires, or other natural disasters. Puerto Rico's Energy Commission has recommended investing in community solar projects.
Community organizers and local groups in Puerto Rico are taking matters into their own hands. Resilient Power Puerto Rico (RPPR), for instance, uses a model developed during the Superstorm Sandy recovery effort and implemented by Power Rockaways Resilience (PRR). Rockaways, New York, was one of the areas hardest hit by Superstorm Sandy. In the wake of the storm, the area was left without power and suffered from looting. Though government help was forthcoming, it was going to take time to bring the grid back online. So PPR set up wind and solar microgrids that could provide electricity in the meantime (see our Solar Power and Resilient Design for Schools and Shelters briefing for more information). These new energy sources and microgrids are being maintained, and will prevent extended losses of power after future storms.
As much as narratives around Maria have been spun with the promise of redemption brought by technological investment and political changes, the island continues to struggle. While the presence of innovative energy systems will put communities in a better position going into the next hurricane system, they belie broader institutional and systemic issues that need to be addressed. Disaster is a product not only of environmental conditions but also of socio-economic ones. Puerto Rico occupies a uniquely marginal position—as a United States territory but without the rights and political influence of a state—that has left it receiving little philanthropic aid since Hurricane Maria. Its reliance on a debt-laden electric utility—plagued by mismanagement and corruption—made the island and its people particularly vulnerable to Hurricane Maria and is delaying the island's transition to renewable, resilient energy systems. Nevertheless, there are many in Puerto Rico who are already striding towards an independent and self-sufficient future of microgrids and renewable energy. Their success could point the way for other hurricane-prone communities in the Caribbean and along the Gulf and East Coasts, which are bracing for more extreme weather as greenhouse gasses warm the atmosphere.
Author: Timothy Manning