Exploring the Environmental Repercussions of China's Belt and Road Initiative
October 30, 2018
China's global socioeconomic and geopolitical ambitions have been formalized in a foreign infrastructure strategy known as the Belt and Road Initiative (BRI). During two speeches in the fall of 2013, Chinese President Xi Jinping first announced his intention to establish a "Silk Road Economic Belt" and a "21st-Century Maritime Silk Road" originating in China. A 2017 Belt and Road Forum produced a more detailed outline of the initiative, and since then provincial governments and state banks have rushed to investigate possible investment opportunities and express support for President Xi's vision.
The trillion-dollar initiative is an expansive combination of investments in transportation, communication, and energy networks across more than 60 countries in Eurasia, Oceania, and Africa. Its massive scale has caught the attention of the international community and has raised some serious concerns over potential environmental effects. Investment and construction will be focused along six continental corridors between China and international markets, where rail lines, highways, and dry ports will dot remote and biodiverse areas. Similarly, a series of deep-water ports and cargo centers are planned for the coasts of the South China Sea and Indian Ocean to increase trade capacity along regional shipping lanes at cities like Gwadar, Pakistan.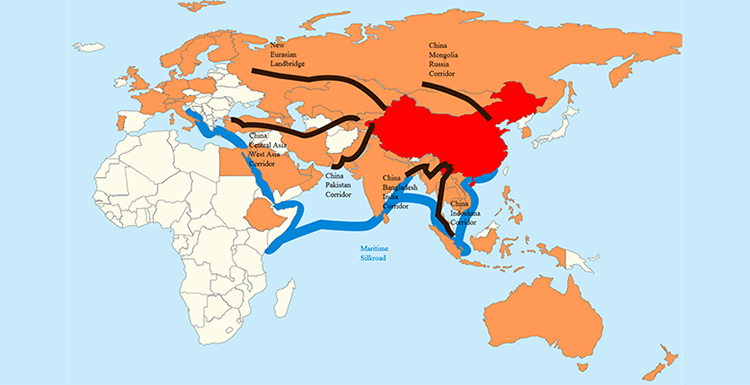 The six proposed corridors in China's Belt and Road Initiative
(Asian Infrastructure Investment Bank members are in orange). Credit: Lommes
With China playing an increasingly pivotal role in the world economy, the Belt and Road Initiative has unparalleled potential to bring about positive economic development across vast regions of the world. But looming in the shadows of its implementation is the very real threat of irreversible damage to our environment.
Ecological Damage
Many of BRI's major corridors are known to pass through ecologically sensitive areas. Increasing interconnectivity in Eurasia through the initiative could mean dissecting these natural environments with miles and miles of roads and rails, and such disruptions would threaten the plants and animals of the surrounding ecosystems—as well as the livelihoods of the people who live there.
A 2017 report published by the World Wildlife Fund (WWF) noted that there will be considerable overlap between BRI projects and sensitive environments. As many as 1,739 Important Bird Areas and Key Biodiversity Areas1 at risk of harm were identified using data from international organizations. Over 265 threatened species could be adversely affected—including endangered tiger species and the critically endangered saiga antelope. Increasing access to undeveloped areas of forest will increase the likelihood of poaching and deforestation in those areas. Unless proper safeguards are implemented, the ecological impacts along BRI's corridors could be considerable.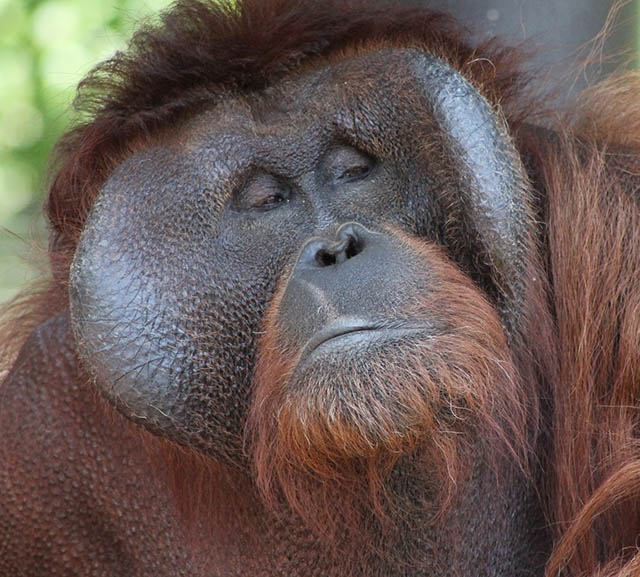 One particular BRI project in Indonesia has drawn fierce condemnation and protests. A dam scheduled for construction on the island of Sumatra poses serious threats to the orangutans and jungle of the highly diverse Batang Toru ecosystem. The project is run by Sinohydro, China's state-owned hydropower company, and includes the blasting of a tunnel, construction of access roads, and flooding of a wide expanse of jungle. Multilateral financiers such as the Asian Development Bank and the World Bank's International Finance Corporation deemed this project too ecologically harmful to fund, but Sinohydro may yet receive funding from the state-owned Bank of China. Prominent professors and environmental activists wrote a letter to the President of Indonesia in July of 2018 urging him to cancel construction. A similar hydroelectric dam project in northern Myanmar has been stalled since 2011, but economic and developmental incentives could still convince the governments of Indonesia or Myanmar to greenlight the Chinese-backed projects.
These types of projects also threaten the livelihoods of people who rely heavily on their local environmental resources. A proposed dam along the Mekong River in Cambodia could cut off some species of fish from their upriver breeding grounds, drastically reducing the yields of the river's fisheries. The dam, backed by the Chinese state-owned South China Power Grid Company, would spell disaster for fisherman downstream in Thailand and Laos. Dams already built in China's section of the Mekong River have begun to reduce water flow through southeast Asian countries downstream.
Exporting Energy
Despite China's growing domestic affinity for renewable energy, some observers fear that China will use BRI to export its fossil fuel-based economy to the developing world. As China tries to reposition itself in the global economic order by focusing on higher-value goods and services, high-emission manufacturing industries may migrate to developing BRI host nations. City dwellers in China unhappy with their air quality may provide political motivation to support this shift: President Xi could rid China of its polluting industries and appease large, urban constituencies most affected by poor air quality. Chinese companies now obligated to follow stricter emissions standards at home could cheaply sell their low-efficiency coal technology abroad. Sharing such unsustainable technologies could foster dependence on fossil fuels among a developing and increasingly energy-hungry world. The diversity of Chinese energy investments abroad, however, shows that BRI might not have a single, discernable direction.
Several coal-fired power plant projects backed by China are already in the pipeline in many of the BRI host nations—and many more built over the past several years have already begun to generate electricity. As of late 2016, Chinese banks and companies were involved in 240 coal projects in BRI host nations, 106 of which were still under construction or in the pipeline (i.e., planned or signed). It is likely that many of these projects contributed to the one percent increase in global coal consumption in 2017, the first rise in coal consumption in three years, which was driven mainly by coal-fired electricity generation in Asia. Construction in Pakistan along the China-Pakistan economic corridor, a centerpiece of BRI, will feature new coal-burning power plants.
However, China also has reason to avoid exporting a fossil fuel-based energy system. As the world's leading producer of renewable energy products (e.g., PV cells, windmills, etc.), China is using BRI as an opportunity to promote norms of renewable energy in host nations and secure new markets for its products. According to the Institute for Energy Economics and Financial Analysis (IEEFA), BRI has already helped enable the exportation of $8 billion of solar goods, which in 2017 allowed China to surpass Germany as the world's leading exporter of environmental goods and services. To encourage the growth of its own domestic solar industry, however, India recently enacted tariffs on Chinese solar products, which made up 89 percent of solar imports to India during the 2017 fiscal year. Satiating energy demand in these new markets with older technologies could reduce demand for China's popular solar products and limit the growth of a thriving solar industry.
China's investment in nuclear energy capacity further complicates the energy investment picture. According to an annual infrastructure publication by the law firm Norton Rose Fulbright, "nuclear is an area to watch" as BRI develops. The publication claims that China has "almost half of the global nuclear pipeline up to 2030" and notes that "a leading Chinese nuclear developer estimates 80 percent of the 300 new reactors planned by 2030 will be in [BRI] countries."
Financing and Environmental Framework
The Belt and Road Initiative's underlying sustainability framework—and project developers' willingness and ability to adhere to it—will ultimately determine BRI's overall environmental impact. With so many different stakeholders involved in each project, there are also many chances for environmental regulation to fall through the cracks. China has begun to develop and adopt its own national sustainability commitments that could be used across the whole of BRI, but unless such guidelines are made mandatory overseas, Chinese developers may still be able choose to follow the less strict, local standards in the developing countries in which they'll be working.
President Xi Jinping's concept of "ecological civilization" was added to the Communist Party Constitution in 2012 and could pave the way for China's international dominance in environmental governance. The idea is meant to symbolize China's commitment to building a sustainable future, an obvious contrast to President Trump's decision to withdraw the United States from the Paris Climate Agreement. Chinese banks (such as the Chinese Development Bank and Chinese Export-Import Bank) have tried to incorporate this idea into their investments as they fund foreign projects and have thus adopted their own environmental guidelines to be followed by their clients. The two aforementioned banks were unwilling to share information about their guidelines with Friends of the Earth in 2015 and 2016, however, when the U.S. nonprofit was seeking to evaluate their frameworks. The reports released by Friends of the Earth emphasize a need for mechanisms to put the banks' requirements into practice and for greater transparency surrounding the whole process.
Three new banks were created by the Chinese government, among others, primarily to fund BRI projects:
The New Development Bank (NDB), created in 2014 by the BRICS countries Brazil, Russia, India, China, and South Africa, has demonstrated a preference for investments in renewable energy projects. NDB maintains a green bond on the Chinese market to finance projects focused on the environment or climate.
Formed by the Chinese government in the same year, the Silk Road Fund is meant to finance BRI projects in Eurasia. One study argues that the fund is helping global sustainability by investing in a Russian petrochemical company that uses petroleum as a feedstock in chemical processes instead of burning it for electricity generation, despite still supporting this extractive industry. The Silk Road Fund also funded a liquefied natural gas project on Russia's Yamal Peninsula.
The Asia Infrastructure Investment Bank (AIIB) was initiated by China and officially founded by 50 countries in 2015. Since then, AIIB has been representative of China's varied energy investments, supporting the construction of a combined-cycle gas power plant in Myanmar, a hydropower facility in Pakistan, and the Trans-Anatolian gas pipeline.
As additional projects are completed and hundreds of billions of dollars are spent on BRI, President Xi and his government must ensure that China's banks are committed to upholding the values outlined in his environmental platform.
Environmental goals and guidelines are commonplace among international multilateral institutions. The United Nations' Sustainable Development Goals encourage governments and businesses to make sure their development projects around the world benefit communities, economies, and the environment alike. The World Bank Group's International Finance Corporation (IFC) has published environmental and social requirements for clients receiving loans. These requirements were slightly loosened in 2016 (some experts have suggested this was meant to keep the bank competitive in a global lending market and move closer to the standards set by AIIB), but well-established multilateral organizations such as the World Bank are still generally regarded as having proven sustainability practices. Because of this, AIIB has co-financed many of its projects with such institutions to lessen risk and ease investors' skepticism surrounding the new Belt and Road Initiative.
A complex web of competing interests will affect the actions of private firms and state-run banks as they negotiate with host nation governments and with multilateral finance institutions to implement the Belt and Road Initiative. A diverse range of countries and jurisdictions introduces an equally diverse range of local environmental standards, but by mandating a set of environmentally-friendly standards for its firms and banks consistent across all projects, China could ensure that BRI is sustainably implemented across the board. Whether China will adhere to these standards remains to be seen. For better or for worse, the infrastructure built by China in the coming years will affect our environment and our hope for reducing global emissions.
Author: Patrick Teese
[1] Important Bird Areas (IBAs) are identified and analyzed by the conservation organization BirdLife International. Their methodology is extended to other taxonomic groups to more broadly determine Key Biodiversity Areas (KBAs).