EESI Donor Spotlight: The Electric Cooperatives of South Carolina
August 8, 2011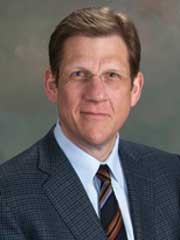 The Electric Cooperatives of South Carolina (ECSC) became an EESI Associate in 2010. Mike Couick, ECSC's president and CEO, was impressed by "EESI's deep roots in the legislative and regulatory community in D.C. and the ability to pull in expertise from lots of different places." He saw great value in EESI's energy policy work and decided ECSC should become a donor.
Mike first got to know EESI in 2009 when South Carolina's co-ops were looking to launch a residential energy efficiency program. He heard about EESI's solid reputation on Capitol Hill for analyzing energy issues and advancing realistic, innovative policy solutions.
In October 2010, EESI and ECSC partnered with Central Electric Power Cooperative, the wholesale power provider to the state's 20 electric co-ops, to implement a pilot program to finance energy-efficient retrofits of rural South Carolina homes. The program is off to a great start, with eight distribution co-ops participating and EESI providing advice and disseminating "lessons learned" to federal policymakers.
Mike is proud of his commitment to EESI. He even called Central Electric Power Cooperative, suggesting it support EESI's work by also becoming an EESI Associate — and Central was pleased to do so. "Co-ops are nonpartisan and EESI has that same approach, so you know that the information provided is reliable and can make a difference with policymakers," Mike says.

For information on how you can support EESI's work for sustainable energy policy, please visit http://www.eesi.org/donate.