EESI Donor Spotlight: Sean Levine
May 3, 2010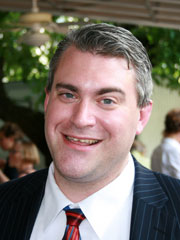 A few years ago, Sean Levine was searching online for a good cause on which to spend his year-end bonus. He knew he wanted to support a nonprofit working on environmental and energy issues, specifically one that was working to educate Congress about the complexities and importance of these issues. He was delighted when he discovered EESI and found exactly what he had been looking for.
Sean tracks energy issues in his job as a senior policy and securities analyst at a boutique Wall Street brokerage firm and appreciates EESI's unbiased information on environmental and energy science, technology, and policy. Sean says, "I often turn to EESI when trying to get my head around a complex energy subject; the newsletters are great." He understands that good legislation is key to solving energy problems. "EESI provides a key service in providing unbiased information and helping Congress understand how urgent the challenge is and what the solutions are, so Members of Congress can better do their jobs," explains Sean.
"Sean is another wonderful example of how EESI helps bring together people, ideas, and sound information about science, technology, and policy," says Carol Werner, EESI's executive director.
For information on how you can support EESI's work with Congress, please visit www.eesi.org/donate.