Development of Carbon Capture and Sequestration Technology Falters
August 10, 2011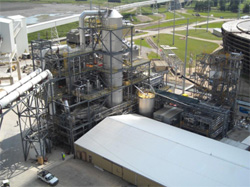 Since December, three carbon capture and sequestration (CCS) projects have been canceled or placed on hold in the United States. Low natural gas prices and lack of comprehensive federal action to address climate change are prompting power companies to shelve plans to test technology that would prevent carbon dioxide (CO2) from being released to the atmosphere by coal-burning power plants.
CCS involves capturing CO2 – a greenhouse gas which contributes to climate change – and storing it underground in geologic formations. Two of the shelved projects were among six proposals that received approval for partial federal financing through the third round of funding from the Department of Energy's Clean Coal Power Initiative .
The announcements are a setback to an Obama administration goal to bring five to 10 commercial CCS demonstration projects online by 2016 — a challenge for which Obama assembled an interagency task force in 2010 to examine.
The Environmental Protection Agency in August gave a boost to CCS technology by proposing conditions that would exempt sequestered CO2 from hazardous waste laws. The Environmental and Energy Study Institute and other environmental organizations opposed this proposed exemption for the unacceptable level of risk it would place on the public, among other reasons.
Many groups have been critical of CCS technology for its potential role in perpetuating environmental degradation caused by the coal power industry. Although CCS would mitigate coal's contributions to climate change, it would not impact mountain top removal techniques used in coal mining, or the non-CO2 air pollution emitted and large quantities of water used by coal-fired power plants.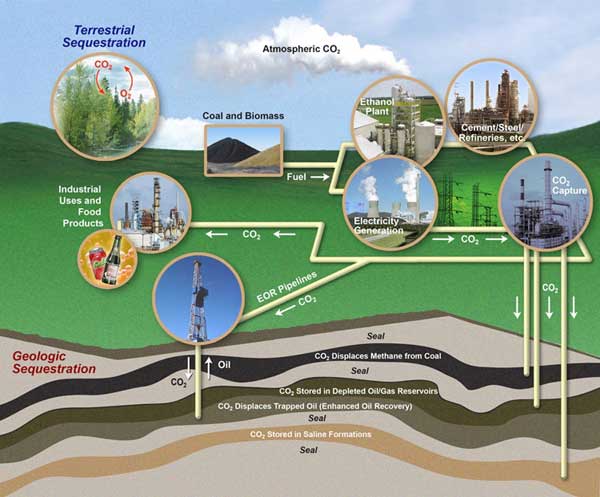 The biggest CCS project to be canceled was American Electric Power's full-scale project at its Mountaineer coal-fired power plant in West Virginia. The project had secured federal funding that would have covered half of the $668 million needed to install the equipment. It would have captured 90 percent of the CO2 emissions from the power plant and stored them in an underground geologic reservoir, but the project was canceled in July.
In the announcement, AEP officials said they were caught in a "which comes first" puzzle. The company needs to develop and commercialize CCS technology if existing coal-fired power plants are to meet eventual federal greenhouse gas regulations without being retired before the end of their lifespan. But AEP said it cannot justify the up-front investment in CCS technology without federal greenhouse gas policies in place.
"It is impossible to gain regulatory approval to recover our share of the costs for validating and deploying the technology without federal requirements to reduce greenhouse gas emissions already in place," said AEP Chairman and CEO Michael Morris in a statement . "The uncertainty also makes it difficult to attract partners to help fund the industry's share."
Other high-profile projects that were suspended included a $100 million coal gasification and CCS research facility in Wyoming, and a demonstration project to capture 25 percent of the CO2 from one of two coal-fired units at a power plant in North Dakota.
The Wyoming project was a joint effort of General Electric and the University of Wyoming called the High Plains Gasification Advanced Technology Center. Wyoming Governor Matt Mead said the lack of a federal energy policy hampered the project's financing.
"Capital from the private sector only flows to large and ambitious projects when there is reasonable regulatory, legal and financial certainty," said Mead in a statement . "This is a real world example of the local impact of the federal government's failure to provide a policy path forward for energy use in America."
GE spokeswoman Yokima Davison told the Associated Press the impact of low natural gas prices also played a role in the decision to cancel the project.
"Basically what we're seeing in the market is natural gas prices are decreasing from the growing shale reserves, a lower power demand based on the recession ... and then no clear energy regulatory policy," said Davison. "So there just isn't a conducive market for cleaner coal to move forward."
The North Dakota project was proposed by Basin Power Cooperative, which pulled the plug after nearly three years of study. It would have retrofitted carbon capture technology to an existing coal-fired electric generation unit. Basin Power had received a promise of $100 million in federal funding, but the project's costs had risen to as high as $500 million.
"We now know the required infrastructure, the cost, and the integration and operational challenges that will be required to continue developing a carbon capture technology," said Basin Electric CEO Ron Harper in a statement . "In the current economic climate, we are postponing further investments for the time being, but regard it as important technology to consider for the future."
Basin Power had planned to sell the CO2 captured from the plant for use in enhanced oil recovery, a process which pumps and stores CO2 deep into oil wells to increase the amount of oil that can be extracted. But the market for enhanced oil recovery had not developed in the region, the company said.
Other projects, however, are still moving forward. In July, Summit Power Group announced that the Texas Clean Energy Project had reached an agreement to sell the CO2 captured from a coal-fired power plant near Odessa, Texas to operators of nearby oil fields for use in enhanced oil recovery. The project has received a commitment of $450 million in federal funds.