Co-Founding Board Member Jerry Decker Retires
November 20, 2012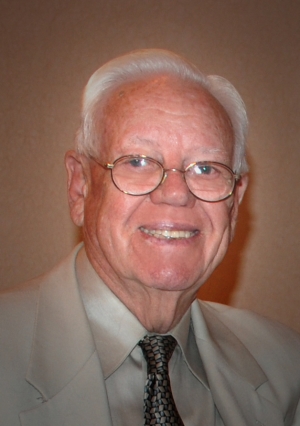 After nearly 30 years of dedication to EESI, one of EESI's co-founding board members, Gerald Decker, is stepping down. Decker – fondly known to his friends as Jerry – celebrated his 91st birthday this October. Recognizing the need for energy conservation and sustainability, as well as the need to coordinate and work with Congress on such matters, Decker worked closely with former Representative Dick Ottinger (D-NY) and a bipartisan group of visionary members of Congress to create EESI nearly 30 years ago.
Decker's career has always revolved around the energy business, and he has been particularly keen on renewables. Indeed, he left a 38-year career at one of America's leading companies, Dow Chemical, to launch his own renewable energy company in 1982. At the time, recent regulatory changes had made it easier to build smaller-scale, biomass-fueled power plants, and Decker jumped on the occasion, founding Decker Energy International (he sold the company to Canada's Alta Gas earlier this year).
Decker explains that Decker Energy International grew out of a study ordered by former governor of Michigan, William Milliken, to examine the potential of cogeneration for electricity production (cogeneration is when a power station simultaneously generates both electricity and useful heat). Upon completing the study, Decker became a convert and sought to spread the word. He traveled to Washington, D.C., to report his findings, and this eventually led to the creation of Decker Energy International and to his role with EESI.
"Federal energy policy, Decker Energy International, EESI, they fit together like a glove," explains Decker. Indeed, he credits Carol Werner, EESI's executive director, for helping Decker Energy succeed: she set up a critical early meeting between himself and Senator John McCain's office, during which he introduced projects that led to the creation of Decker Energy International. EESI "made my career in energy" says Decker, and that's why Decker Energy was an EESI Associate – a group of donors that provide significant general support for EESI's mission – before its sale.
Decker believes that "the federal government needs to make it a high priority to conserve energy" and that EESI has been a big motivator in this field, succeeding in "getting across the need to consider the environmental aspects of power production and the need for energy conservation."
Carol Werner is quick to return the compliment, insisting that "Jerry is wonderful, he's helped EESI so much, in so many ways. Despite his retirement from our board, he will be on our Advisory Board, so we hope he'll stay involved. There's still so much to do!"
EESI stands as one of Decker's many great lifetime achievements. Yet his passion for clean energy and conservation is also exemplified by his many other career achievements. Along with former Congressman Ottinger, Decker helped lead the development of the Public Utility Regulatory Policies Act (PURPA), a key energy conservation law promoting domestic use of renewable energy and a part of the larger National Energy Act of 1978. Until 2011, he served as vice president of Midland Energy, LLC, a company focused on the development of wind power and landfill gas power plants for renewable energy. Decker has served on the Environmental Advisory Committee of the U.S. Department of Energy and has worked as a consultant, advising companies on environmental improvements and conservation.
In recognition of Decker's commitment to sustainable energy, he was awarded the Secretary of Commerce's Special Medal, the National Energy Resources Organization's Distinguished Service Award (1979), and the American Institute of Chemical Engineers' Service to Society Award (1979).