A Conversation with Stephen Aiguier from Green Hammer
February 5, 2014
Back in June 2012, EESI profiled Ankeny Row, a project to build a sustainable "pocket neighborhood" for retirees in Portland, Oregon. The project's originators—long-time friends and recent retirees Francie and Michael Royce, Dick Benner, and Lavinia Gordon—found a suitable spot for a retirement community in Portland's Buckman neighborhood, and selected Green Hammer, a Portland-based firm, to create it.
Ankeny Row's founders were determined to make it an intentional community consisting of six Craftsman-style townhouses, a common room and kitchen, a central garden-courtyard, and a carport with charging stations for community-shared electric vehicles. At the time, the project was in search of like-minded retirees to join the community and help finance its construction. The search was successful, and Ankeny Row is currently under construction and scheduled to be completed by fall 2014.
EESI interviewed Green Hammer Founder and CEO Stephen Aiguier to follow up, and to obtain his insights about the green construction business.
Origins
Our conversation started with Aiguier's story of getting into the business after spending three years in Italy as a lead carpenter restoring houses that were hundreds of years old. During that experience, Aiguier was inspired by the environmental integrity and sustainable practices evident in the venerable buildings.
He is also keen on promoting sustainability, and addressing climate change. "I'm a firm believer that science takes the lead, a firm believer in climate change, and I'm a firm believer that we are not doing nearly enough to mitigate climate change." Aiguier pointed out that "buildings consume about 40 percent of the country's energy and account for [more than] 30 percent of carbon emissions. […] I want my daughter, even my daughter's daughter, to be able to live in the same beautiful nature I have been living in."
Back in the United States, Aiguier settled in Portland, Oregon, became a Certified Passive House Consultant (CPHC) and building science expert, and founded Green Hammer in 2002, with a mission to create healthy and inspiring sustainable buildings using a triple bottom line approach (valuing economic, environmental, and social sustainability). Green Hammer started as a construction firm, and gradually embraced the unified design-build approach, in which the same firm carries a project from conception through final completion.
Policies

Aiguier then addressed the role of policies in the green building business. "A lot of push comes from utilities and incentive programs," he said. The 30 percent federal Solar Investment Tax Credit (ITC), for instance, served as the major driver to have solar panels as part of the Ankeny Row project. "They wouldn't have done it without this," he noted. Aiguier also mentioned California's Title 24, which mandates 15 percent energy savings and 20 percent water savings in residential buildings, and encourages the adoption of higher standards. Aiguier pointed out that energy conservation is not fully incentivized, even though it has, in his experience, four times the payback of renewable energy production.
Beyond the Code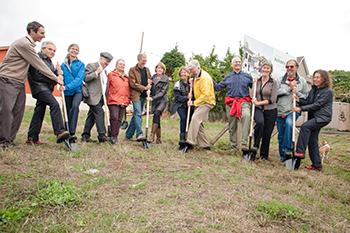 Staying ahead of the code, Green Hammer has been learning about a variety of green building and energy efficiency standards and rating systems, including the Passive House</a> Standard, LEED (Leadership in Energy & Environmental Design), FSC (Forest Stewardship Council), Net Zero Energy, and ENERGY STAR. When asked whether it's in Green Hammer's interest to go beyond the basic, mandatory standards, Aiguier explained that customers understand what they are ultimately getting with a higher standard building: a healthier and more comfortable environment, lower operational costs, and a higher return on their investments.
"Building owners, particularly my clients, think of their buildings or homes as long-term equity investments," Aiguier said. They thus benefit from investing in more expensive building standards. The savings from lower operational costs (due to reduced energy and water consumption) far outweigh the extra upfront costs, which can often be minimal. And the uncertainty over energy and water costs in 20 years' time makes keeping them as low as possible even more attractive. Similarly, making a building durable to keep maintenance costs down can more than cover higher upfront costs over the building's life. Last but not least, houses that carry third-party certifications are easier to sell and get a 9 to 10 percent higher resale price, according to a comprehensive study by UC Berkeley and UCLA on the value of "green labels" in the Pacific Northwest, including California.
Ankeny Row is being designed to meet the Passive House (or PassivHaus) standard, which ensures comfortable indoor temperatures and excellent indoor air quality thanks to super insulated, airtight construction and high-efficiency heat-recovery ventilation. When built to Passive House requirements, the six units in the community should consume approximately 70 percent less overall energy and 90 percent less heating energy than typical new houses. In addition, rooftop solar panels will generate electricity and enable these very low-energy homes to achieve net zero energy performance (they will produce as much energy on-site as they use, over the year). The community is in walking distance to stores, restaurants, and public transit, which will enhance livability even more, while shrinking the development's environmental footprint.
The Future of Green Buildings

At the end of our conversation, Aiguier envisioned what the future holds for the green building industry over the next decade. "The green building industry is about creating better buildings, in a way that has more positive impact. There are economic limitations and technology limitations, but… I do know one thing, what Green Hammer is creating today, will be what is required in 10 years. I think the green building industry today will be the building industry in 10 years. "

Author: Mengpin Ge

Sources