2011 Solar Decathlon Showcases Net-Zero Energy Homes
October 13, 2011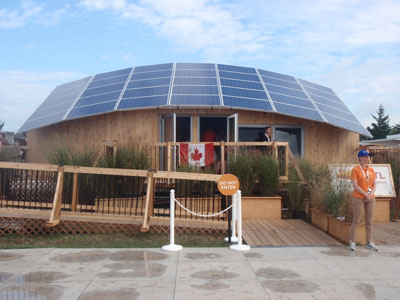 In the fall of 2011, 19 collegiate teams met in Washington, D.C. to showcase solar-powered houses that they designed and built for the fifth biennial Solar Decathlon. The competition, sponsored by the U.S. Department of Energy, included teams from the United States, China, New Zealand, Belgium, and Canada. Teams were challenged to build net-zero energy homes, which produce as much energy as they use over the course of a year. In addition to being assessed on energy production and efficiency, homes were judged on affordability, consumer appeal, and design.
Energy Efficiency
Reducing energy demand through efficiency must be a top priority to achieve net-zero energy status. Solar Decathlon teams made their homes as energy efficient as possible with highly insulated, well-sealed walls, windows, and doors, creating an air-tight building envelope. Many incorporated passive solar design strategies , which enable a house to collect, store, and distribute solar energy in the form of heat in the winter and reduce solar heat gain in the summer. For example, Purdue University's INhome used eaves and window positioning to keep the house cool and naturally ventilated in the summertime. The teams also used efficient appliances and lighting, as well as electronic monitoring systems to inform residents about their homes' temperature, humidity, and energy use.
Renewable Energy
On-site solar panels generated the remaining energy needs for each home.
When connected to the power grid, net-zero homes export enough energy back into the grid in the summer to compensate for energy that they import from the grid during the winter. Appalachian State University installed an ultra-efficient, bi-facial solar canopy, which collects light from the sun on both sides of the panel, so an indirect reflection of the sun off of the ground will bounce back up to the underside of the solar panels. Most homes also used solar thermal collectors to heat water for household use.
Real-World Applications
Solar Decathlon teams were eager to put their homes to use in the real world. Some teams planned to sell their homes, use them as exhibits for research and education, place them on their campus to house visiting faculty, and make them available for disaster relief. The Parsons New School for Design / Stevens Institute of Technology team partnered with Habitat for Humanity in Washington, D.C. to provide housing for a family in need. The energy-saving design of the house will save the homeowner $2,300 every year, paying back about 50 percent of the cost of the home over 30 years.

Watch this video to learn about net-zero houses from Solar Decathlon team members!

Cost-Effective, Net-Zero Energy Homes Across the Country
Net-zero energy homes are not just for competitions, and are currently in use across the United States.
Watsonville, California
In 2003, Clarum Homes opened the largest net-zero energy development in the U.S., with 177 single-family homes, 80 townhouses, and 132 apartments. Homes ranged from $379,000 to $600,000, and all sold out in the first year. Energy efficiency and solar power features are designed to reduce homeowner energy bills by up to 90 percent.
Bay City, Michigan
In 2011, The Dow Chemical Company and Cobblestone Homes released the "InVision Zero" home in Bay City, Michigan. The net-zero home, priced slightly below the current U.S. average home selling price, serves as a model home to educate the general public and homeowners about the affordability and attainability of net-zero homes.
Austin, Texas
Solutions Oriented Living (SOL) , a net-zero housing community in Austin, Texas, contains 40 units that are 100 percent electric and are capable of reaching net-zero energy. The homes in this mixed-income community range from 1,000-1,800 square feet and prices start at $190,000.