Utility-run residential on-bill financing programs provide loans for home energy efficiency improvements, and homeowners (or long-term renters) then repay the loan through their utility bill. This requires the utility to provide or obtain upfront loan capital. Rural utilities are less likely to have the necessary reserves, so outside sources of capital are necessary. Private and public financing options are available to do just that.
Fact Sheet: USDA Financial Resources for On-Bill Financing Energy Efficiency Programs



Energy Efficiency and Conservation Loan Program
U.S. Department of Agriculture's Rural Utilities Service (RUS) finalized plans in December 2013 for the Energy Efficiency and Conservation Loan Program (EECLP), an energy efficiency loan program for rural electric co-ops and public power utilities serving rural areas. USDA was partly inspired by the South Carolina co-ops' "Help My House" on-bill financing pilot, which had used a separate USDA loan program for program capital. The EECLP supports on-bill financing programs, but also a wider range of projects including demand-side management and renewable energy investments. The EECLP has no specified limit regarding size or quantity of loans, but instead draws from RUS's broader authority to annually provide $6.5 billion in guaranteed loans. As much as $2 billion of this annual authority has sat unused in recent years, which means the EECLP is a major potential resource for rural utilities. The program provides reimbursable loans at the going federal interest rates -- 10-year rates in May 2016 were approximately 1.8%.
RUS made its first EECLP loans in 2014 to co-ops in Arkansas and North Carolina. RUS is currently accepting EECLP applications on a rolling basis.
For more on the EECLP, visit the official webpage or see Appalachian Voices' summary.



Rural Energy Savings Program
In 2016, USDA announced the new Rural Energy Savings Program (RESP). This new program, under the purview of USDA's Rural Utilities Service (RUS), makes $50+ million per year in zero-percent loans available to rural electric cooperatives and other rural energy providers for the purpose of relending the funds to homes and small businesses to make cost-effective energy efficiency improvements. (This program is similar yet different from EECLP – see the USDA-provided comparison chart below.)
The first two RESP loans awards were announced in 2017. KW Savings Co., on behalf of seven South Carolina co-ops, received $13 million to scale up the "Help My House" on-bill financing program. The Northeast Ohio Public Energy Council (NOPEC) received $1 million to provide energy improvement loans to small businesses.
Fact Sheet: Rural Energy Savings Program
Under the RESP zero-interest loan program, utilities may relend the capital to their members/customers at an interest rate of up to 3 percent; the proceeds can be used to help cover the utility's program costs and/or create a loan loss reserve. RESP loans can be used for a wide variety of energy efficiency measures, providing the utility can justify the cost-effectiveness of the measures for the end-user.
RESP was authorized by legislation first introduced by Rep. James Clyburn (D-SC) and Sen. Jeff Merkley (D-OR) with bipartisan support in 2010 and which eventually passed as part of the Agricultural Act of 2014 (the Farm Bill). RUS was able to move forward with RESP when it received an appropriation from Congress in December 2015.
The next RESP application window is set to open by Summer 2018.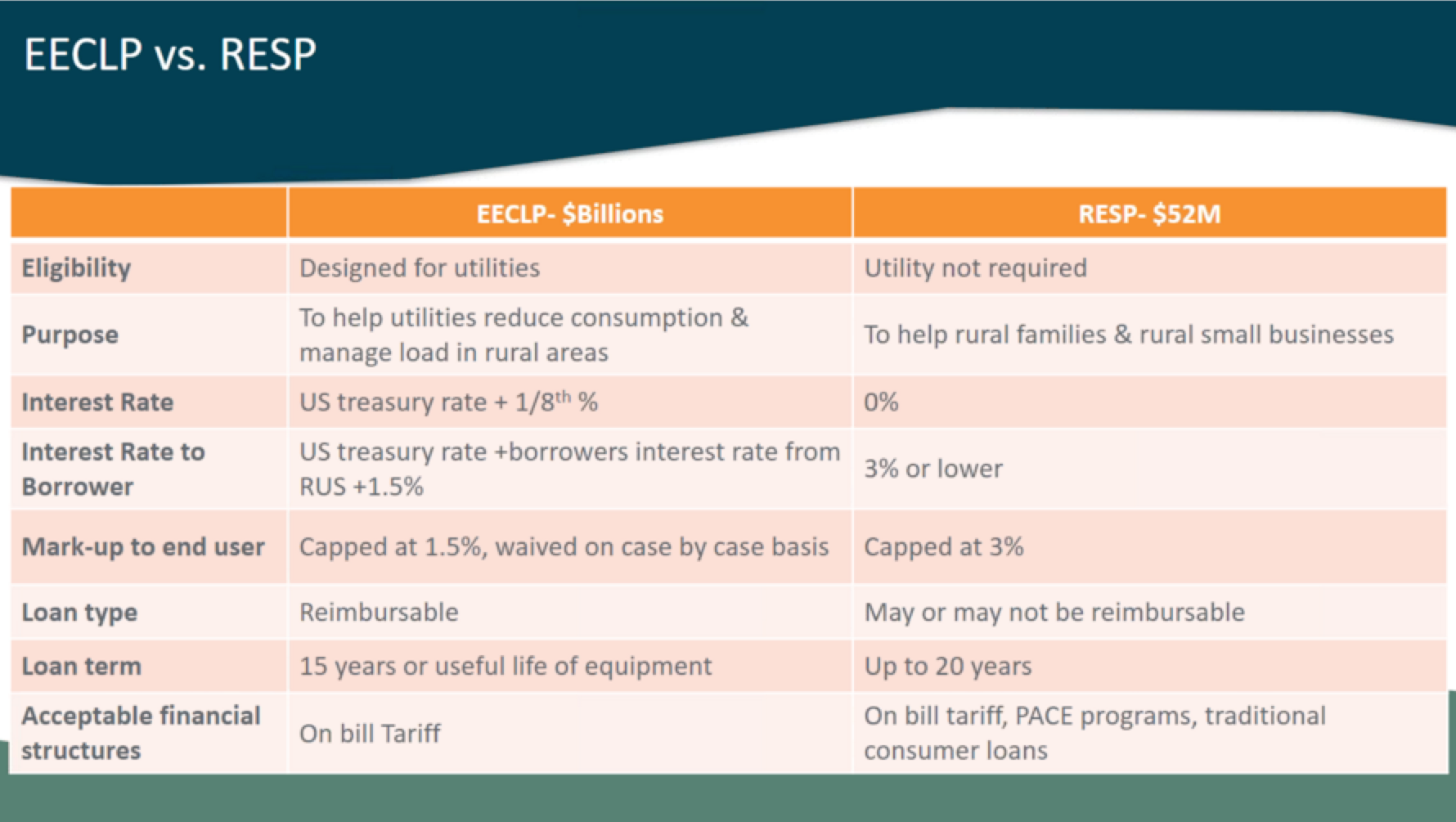 Source: USDA Rural Utilities Service, as presented on July 12, 2016 webinar